Two & a whole man: just a spontaneous idea
Reading time: 5 minutes
Two and a whole man introduces us to their Brand-Your-Band concept in this interview. Congratulations to this fantastic line-up!
Two and a whole man, doesn't that sound like a borrowing from the well-known American series? Who is Charlie here? Joking aside, can you tell us something about the naming?
"There is no big story in the background at all, except that we liked to reflect our compact and somewhat unusual line-up in the name. Everything else was then just a spontaneous idea..."
How did you get together? Can you tell us something about the members of the formation?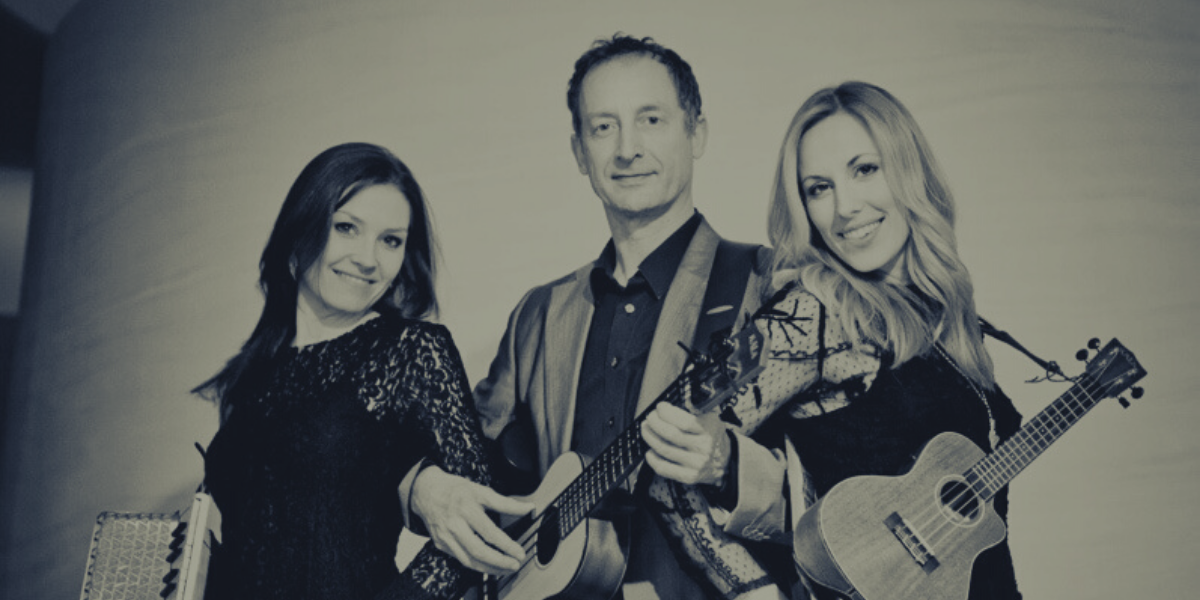 Vera and Alex are both first-class singers and musicians. Often you see them together like in "ABBA-99" or "Used Underwear", or also individually with different formations or with their own projects. This year, for example, Vera is the show opener at "PUR" with her own band "Klima". I have known Vera for a long time, because we met in different projects. The band "Two and a whole man" was formed because of a specific request for a road show. I had the request for a compact, flexible band that could also act as a walking act, I asked Vera and she then brought her good friend and colleague Alex into play.
I find the section "Brand-Your-Band" on your homepage quite interesting. What is it about that, how can the concept of "Two & a whole Man" be described?
The concept of TM is simple: we use simple and compact instrumentation, lots of 3-part vocals, sophisticated arrangements, high musical standards and prefer to play acoustically. With the "Brand-Your-Band"-concept the guests witness a unique and humorous performance in every respect. The procedure is a well-rehearsed process that begins with a briefing from the client, followed by the editorial work, the definition of the target points, the song selection, the lyrics, text adjustments, arrangements, rehearsals, performance. Experience shows that if you can take yourself for a ride, customers and employees appreciate you all the more.
The beauty is making music together
Yes, it's not said for nothing that he who laughs at himself has a sense of humor. How would you define the target audience for your formation?
We are not an Oktoberfest-on-the-table-dance-combo :-) We attach great importance to polyphonic singing, a good sound and in general to musical quality. In this respect, we are best suited for an audience that has a musical demand, loves the fine rather than the loud and is looking for something extraordinary.
On your website you have posted two professional videos from which the true joy of life radiates. Who brings these ideas?
For photos and videos, we like to fall back on Lena Semmelroggen, who has become dear to us. She brings a lot of ideas, but otherwise gives us free rein, the rest comes spontaneously. We basically like to fool around and laugh and often have a good time together. If that comes across in the videos, we're happy! :-)
Yes, very varied. On the videos you play once accordion, once ukulele with bass strings? But I was able to find out that you are a studied percussionist. What surprises do you have in store for us - are there still several projects?
First of all, thank you! I'll try one after the other: the small bass instrument is a bass ukulele. Tuned like an electric or double bass, but with a much shorter scale length. I came up with it through a bass player friend of mine, and it came from the situation that we often flew with "MisterAct" - a similar project of mine with 2 guys - and the double bass is very counterproductive as far as flying is concerned :-) With both bands we sing and play (almost) everything by heart. Since I'm not a good singer, the whole organization and arranging work is up to me - everyone does what he can :-) Both bands are very work- and rehearsal-intensive, you can definitely hear that, but it's often hard or impossible to explain to clients, because they always want to save money :-) With "MisterAct" I play double bass, with "Two and a whole man" meanwhile exclusively the cocktail drumset, since Alex has taken over the role on the bass ukulele (hats off!). Besides these two projects I'm still on the road as a sideman on drums or bass or working at home in the studio on my own or commissioned work.
That certainly adds up to a lot of appointments: Is there already something for 2017 that we should make a note of in our diary or that you and your colleagues are particularly looking forward to?
I can't say exactly yet, we play a lot at closed events, whether they are company events or family celebrations, we don't have many public appearances. The nice thing is that we always look forward to each other and to making music together!
We should remember that! Then we wish you a lot of fun making music together and thank you for the nice interview!
Thank you very much and you're welcome!